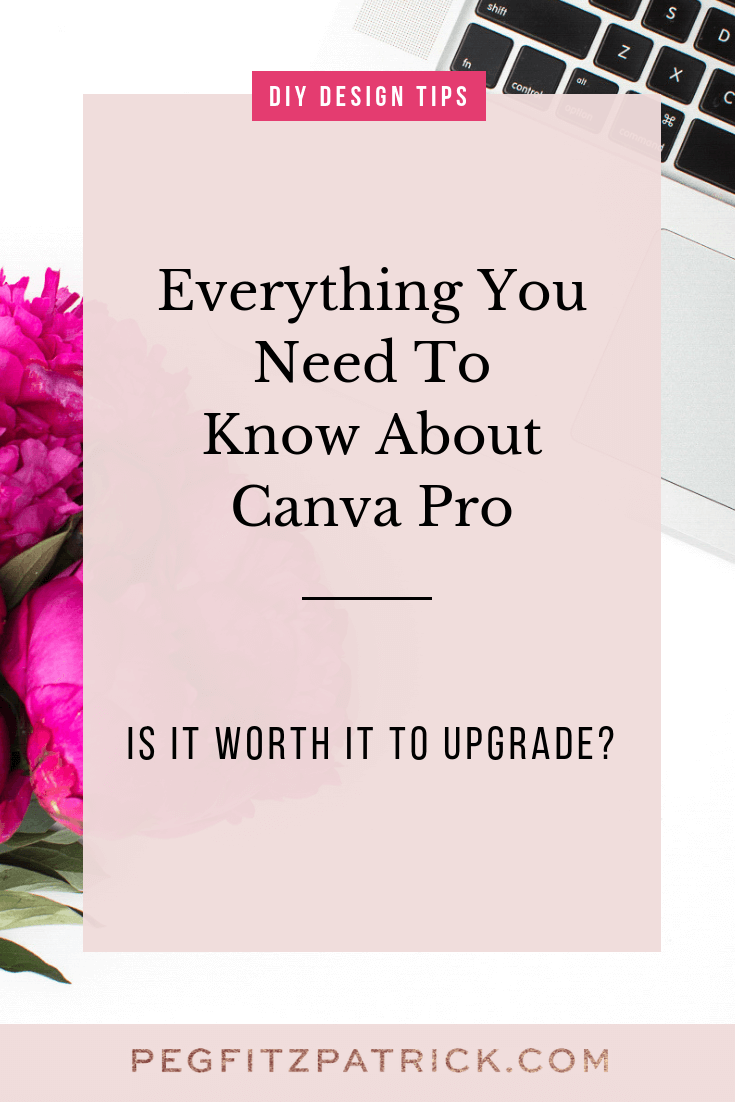 Canva for Work has been updated and is now CANVA PRO!
Canva Pro includes everything in Canva, plus:
Unlimited folders for your designs
Team functionalities
Unlimited storage for photos and assets
Upload your own images
Access millions of photos  – included in your Canva Pro membership
Exclusive access to 400,000 free photos, illustrations, and templates
Magically resize your designs
Upload custom fonts for your brand
Set color palettes for your brand
Save templates for you and your team
Organize your photos with folders
Easily find your designs with search
Resize designs into custom dimensions
Download designs with transparent background
Export designs as animated GIFs
Priority support
Everything You Need To Know About Canva Pro
With a Canva Pro account, you can exclusively access these features:
One of the best new features is the ability to work with a team and add different levels for people: administrators, template designers, and members. This is great for large and small businesses or for working with a designer. This allows people to add templates for you without having to email links back and forth.
I'm a team member on Guy Kawasaki's Canva team, and I can switch from my brand to his brand from the drop-down on my main Canva screen. It's super easy, and you can help make your boss look like a rock star in no time.
And the lastest and greatest upgrade: all the images are free! They used to be $1 each.
Images Pro gives you unlimited access to millions of photos, icons, and graphics from a premium collection to use and publish on any design in Canva as many times as you like. This is subject to the continued payment of your Canva Pro subscription fees and compliance with Canva's Terms of Use, including Canva's license terms.
Huffington Post and Upworthy use Canva. Here's what they had to say:
"Canva Pro has been incredibly useful for Upworthy's editorial team. The template feature allows anyone on our team to easily create graphics that are aligned with our visual brand — no extensive design training required. It's saved us loads of time, and our graphics look great! The Canva team is also a pleasure to work with — always responsive and eager to help out with our questions and requests." Megan Kelley, Writer, Upworthy
"We needed a tool that hundreds of people with all ranges of experience could use and one that allowed for brand consistency across the company. It's important that each design, looks specific to the brand and not the individual – yet it allows us to fully customize each design. Since designing with Canva, we've been able to provide a richer experience to our readers, and the response internally has been really positive!" Candy Bigwood Mobile Art Director, Huffington Post
Team members can add designs that show up in your Canva team designs, and you can add comments to each other. They are also remixable! This means when I hit the green REMIX button, a new design opens, and I can create something with the text, change the image or even hit the magic resize button.
My team member, designer Jeff Sieh of His Designs Online, has the option to send me templates or designs using my color palette and logo which are pre-loaded and saved in my brand kit.
You also can share designs in the team stream so team members can share ideas and comment on designs.
The key features include:
Centralize brand colors, logos, and fonts. Keep your brand guidelines up-to-date and in one place. Enable your entire team to access and use your colors, logos, and fonts in their own designs.
Save branded templates. Create templates for everything from social media graphics to presentations. This ensures consistency and empowers your social media, marketing, and sales teams to create their own on-brand graphics.
Logos are a snap to find now that they have a home in your left sidebar. You click the logo icon, and your pre-loaded logos appear. You can then drag and drop it into your design.
Magically resize designs. Quickly resize a design into all the formats you need. Create a design once, and optimize it for different social media channels, or campaign collateral. Resize is only available for Canva Pro accounts and can only be accessed on desktop browsers.
Once you create a design you like, you hit the magic resign button and VOILA you have all the sizes you need to promote your blog post using the preset sizes in Canva or your custom dimensions. Can I hear a HOORAY for that feature?
Organize images and assets into folders. Centralize images and assets for your team. Employees will never get stuck searching for the right logo again.
Invite your team to collaborate. Canva Pro is perfect for organizations of all sizes, whether it's one person or a team of hundreds. It provides an internal commenting and collaboration system to improve workflow.
"Canva is extremely popular with individuals who create things like social media graphics, presentations, and business cards. It has saved them time, money, and allowed them to create graphics that look professional without needing to learn the expensive desktop design tools," said Canva CEO Melanie Perkins.
"Over the past two years, we've found that brands often struggle to an even greater extent with the same issues. Canva Pro takes Canva to the next level, by empowering companies to share design templates, fonts, and digital assets, and to collaborate on the design process."
Canva Pro will also appeal to professional designers and brand managers, who can provide a greater level of control over an organization's brand, by setting up their brand assets and custom templates in Canva.
"Too often graphic designers are overstretched and pressured with competing priorities from all corners of an organization. Canva Pro enables them to centralize all their assets, collaborate more easily, and oversee a brand's image by providing remixable templates, images, and design assets that other teams can use to create on-brand graphics."
Learn more about Canva Pro here. Canva's free version service will continue to remain available. I feel like Canva Pro is essential for my work in social media and my blog, it's definitely worth the upgrade!
I hope you enjoy testing out all these fun new tools and using them as much as I do! What feature are you most excited about?